Hotels & Guest Houses
Invest Wisely and Capitalize Upon It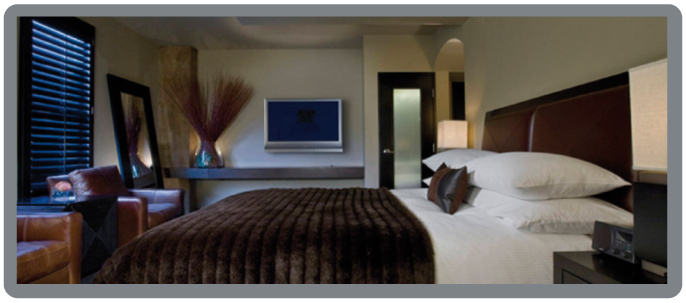 SMARTENTITY offers a broad range of solutions that will greatly enhance your customer's perception of your hotel as well as bringing in additional revenue. Interactive chargeable services such as films and music on demand and in room reliable internet access are a must for business customers, yet many hotels still fail to offer these facilities. SMARTENTITY can supply and install these systems and in most cases they will also provide an additional revenue stream.
One aspect of your customer's stay that is often overlooked is the quality of the picture on in room screens. We see many hotels where rooms receive very poor picture quality and have channels missing due to poor cabling and or equipment. By using the good design we can rectify these issues and eradicate complaints to reception.
We can also provide in room audio systems that will allow your guests to plug in and listen to their own Apple device or MP3 player or choose from a number of preset radio stations. This is generally done via in ceiling speakers to further reduce clutter.
Hoteliers often request our 'Hotel Information' option which can greet your customers upon switching on the TV and show information including the hotels in house facilities, phone list directory, TV channel list, other local facilities, photographs of the Pool, Gym and Restaurant together with the Menu specials for the day etc. Our screens incorporate 'hotel mode' for menu disablement to stop guests from altering the settings on the screen.
SMARTENTITY will help you make the most of generating income from your Audio Visual investment by designing a solution that is right for the guests.